Florida Bus Accident Lawsuit Loans and Pre Settlement Funding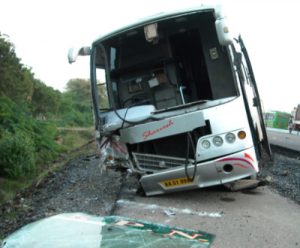 A bus accident is not your normal type of auto or traffic-related accident. Frequently, Florida passengers are not restrained in their seats, meaning when an impact is sustained by the bus, serious injuries can result even from the slightest collision. There can be a long and difficult medical recovery that often results in deep financial stress. Mounted on top of this is the fact that many bus lines are operated by a municipality (town) or other government agency so the lawsuit itself can be longer and more difficult. Laws are often more strict when dealing with a case involving a government entity, so the legal battle can be drawn out. In this situation, you want to consider bus accident lawsuit loans.
As an injured Florida victim, you have the right to seek compensation for your losses both present and future. Many victims of bus accidents find it difficult or even impossible to work due to their injuries. Lack of cash flow can result in unpaid bills and expenses which continue to pile up over the lengthy time waiting for your case to settle. You and y0ur family are left in financial devastation. If you have a lawsuit in court based on a bus accident and have a lawyer representing you, you may qualify for bus accident loans on your lawsuit settlement.
With a cash advance from Advance Law Funding, you do not have to wait for your case to settle in order to get the cash you need now. A lawsuit cash advance can provide you with a portion of your settlement long before the case is resolved, with no spending restrictions. The goal is to help you achieve financial independence while you recover from your injuries. If you cannot work and pay your bills, you simply cannot afford to wait for your case to settle.
Types of Expenses Covered With a Lawsuit Cash Advance
Daily Expenses
Groceries & Food
School Supplies
Medical/ER/Doctor Bills
Rent or Mortgages
Common Types of Injuries We Fund
Broken Bones
Crush Injuries
Fractures
Falling Inside the Bus
Being Crushed by the Bus Door
Spinal Cord/Back Damage
Death of a Loved One
With a lawsuit cash advance from Advance Law Funding, you can receive cash within 24 hours of your approval. It is not a loan, meaning you do not have to pay it back if you do not win your case. You will owe us nothing if your attorney does not win you monetary recovery for your bus accident injuries. We make the application process quick and easy, and our customer service representatives are available 24/7 to answer your questions.
Do not wait any longer to get the cash you need to take care of yourself and your family. Financial devastation can happen very quickly, and our process is risk-free to you. Rather than settle your case early for low compensation, get the financial freedom to allow your attorney to fight for the maximum amount of monetary recovery.
---
The Best in Florida Bus Accident Pre Settlement Funding Companies
Lawsuits can take a toll on you, coming at the most inopportune times. You may even be saying to yourself, "Where am I going to get money for my injury?" or "Where am I going to get money for my lawsuit?" Our Florida bus accident pre settlement funding can help you in times of crisis when you were least expecting it.
If you need a lawsuit settlement loan today:
Call us at 1-888-529-0069 for cash in 24 hours.